Authonet zero-trust network edge security
The Authonet zero trust firewall secures the network edge to protect the business data from cybercriminals.

Zero trust network cybersecurity means never trust, always verify. Zero trust cybersecurity protects business data, software and infrastructure using strict protocols, and monitors network traffic for suspicious behavior or potential threats. Zero trust has four principles that are implemented by Authonet end point firewalls;
1. Identity verification and authentication of every user and device that is attempting to access the network. Verification uses device identity checks and multi-factor authentication of users.
2. Users and devices are given access only to the specific network resources they need to perform their tasks in order to limit the potential damage that can be caused by a compromised device.
3. Users have restrictions imposed for access to Internet services that block interaction with potential attack vectors and compromised websites.
4. Continuous monitoring of network activity can identify potential threats and provides the opportunity to take effective action quickly.
Understanding cybersecurity helps prevent cyber attacks
Secure and protect your network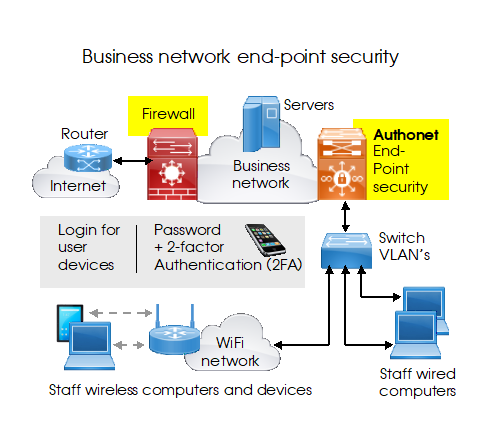 The network edge is a cybercriminals point of access for a data theft or ransomware attack. In 75% of cyber attacks, user devices connected to the network endpoints were the vector of access through the process of phishing to plant a Trojan virus onto the user computer. The Authonet endpoint firewall provides the zero trust tools to secure the network edge.
The Authonet product range has full-featured endpoint security appliances designed for small, medium and large business installations. Authonet products are very easy to use with the sophisticated features to manage threats of attack. Authonet invested in product development to design products that not only incorporate the most advanced technologies but are also compatible with the IT budgets of small to medium businesses.
"As online working surged during the pandemic, so did cybercrime - ransomware attacks rose 151% in 2021. The World Economic Forum's Global Cybersecurity Outlook found there were on average 270 cyberattacks per organization that year, with each successful cyber breach costing a company $3.6m."
World Economic Forum, 2022. Report: Ransomware and 'ransom-war'